Preparing for your Inpatient Procedure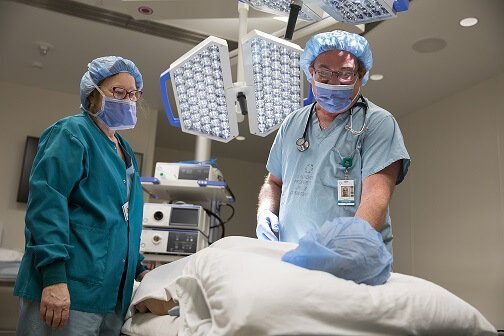 Preparing for your Inpatient Procedure
At STEGH, patient care is our top priority. We want to ensure that every stay is as comfortable and pleasant as possible. We know that preparing for a visitor or stay at any hospital can be worrisome so we hope this section helps prepare every patient for what they can expect at their stay and the services available throughout their stay.
When preparing for an overnight or extended stay at the hospital, bringing personal items from home can help make a patient's stay more comfortable. Please consult the lists below to identify what to (and what not to) bring to the hospital.
Toothbrush & toothpaste
Hair brush
Soap/unscented deodorant
Shaving products
Shampoo
Kleenex
Pyjamas or night gown, bathrobe & non-slip slippers or shoes
Health Card (OHIP)
Current prescriptions and non-prescription (vitamins, supplements and herbals)
List of recent medications from your pharmacy
Medications in their original containers (medications prescribed and approved for use at the hospital will be supplied while in hospital)
Care Wishes (ie: Advanced Directives for Personal Care, Living Will, etc.)
Power of Attorney documents (if applicable)
Supplementary insurance information (if you have extra coverage)
Scented personal care products (scented deodorants, perfumes, after-shave lotions)
Important papers or documents you don't want to lose
Jewelry, cash and expensive clothing
Alcoholic beverages
Other valuables (Laptops, tablets, cell phones)
* Valuables should be sent home with a family member. If this is not possible, they can be locked in the Business Office (1st floor) and picked up at discharge.
Hospital Rooms
Standard Ward: 3 or 4 beds per room (covered by OHIP)
Semi-private: 2 beds per room (not covered by OHIP)
Private: 1 bed per room (not covered by OHIP)
There will be an extra charge for private and semi-private rooms if the patient's personal insurance plan does not pay for them. We recommend all patients call their insurance company for information.
On the Pre-registration Form patients may include which kind of room they prefer. We will do our best to accommodate each patients' preference, but it is not always possible to know in advance what
room will be available the day a patient will be admitted. To change a room type, please call Central Registry at Ext. 2131.