Rehabilitation Services
Helping You Function as Independently as Possible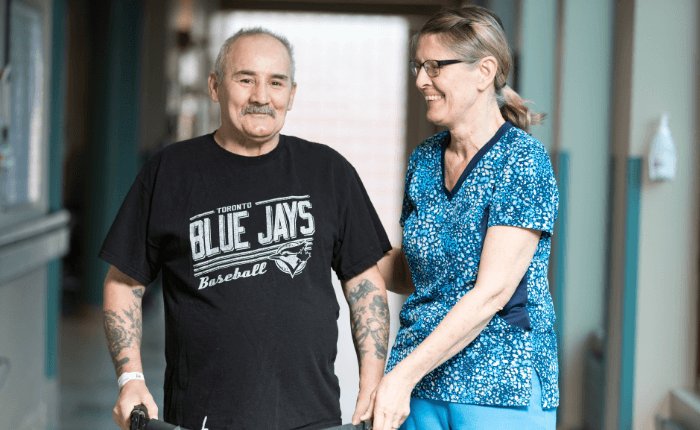 The Rehab Program offers inpatients a two-week trial to help meet specific goals for discharge home or to another level of care as soon as possible. The program focuses on falls prevention and home safety education to help with your ability to function as independently as possible.
Inpatient Rehabilitation Services include:
Social Work
Speech Therapy
Physiotherapy
Occupational Therapy
Recreational Therapy
If you have any questions, ask any member of the health care team.
Rehabilitation Inpatient Services
Patients may work with a Speech-Language Pathologist (SLP) to assess and treat speech and language difficulties. Speech therapy helps to promote effective communication with a focus on individual strengths, the program may also assess and treat swallowing dysfunction.
A Physiotherapist (PT), through teaching, training and practice, works with each patient to help with balance, endurance, strength, walking, stairs, functional movement and education related to individual goals.
An Occupational Therapist (OT) will assess your self care skills, your ability to plan and carry out activities independently and determine any equipment needs.
A specialized Therapeutic Recreationists works with each patient to assess your social and leisure needs. The program helps to rebuild balance and strength so each patient can accomplish their personal recreation and leisure goals.
Not every patient will require all services.
CONTACT
519-631-2030 Ext. 2330
(Note: this number is for the inpatient rehab services only.)
HOURS
Outpatient Physiotherapy Services at STEGH:
Talbot Trail Physiotherapy, 519-637-7171
Outpatient Mental Health Services:
519-637-0511
The Rehabilitation Program is located in the Continuing Care Centre at the St. Thomas Elgin General Hospital.