Diagnostic Imaging
State of the Art Technology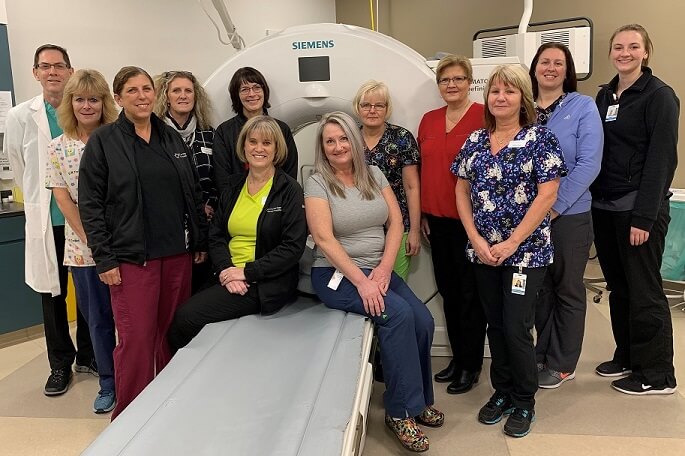 Welcome to the home page of the Diagnostic Imaging Department.  All imaging procedures are performed by Medical Radiation Technologists (MRT) and interpreted by Radiologist using state-of-the-art technology allowing us to provide the best possible service to our community and surrounding areas.
Imaging services are provided on an inpatient, outpatient and emergency basis.  All imaging examinations are performed and archived digitally, which allows the information to be transferred efficiently for interpretation by the reading Radiologist and expedite patient care where needed.
As part of the Thames Valley Hospital Planning Partnership, all imaging studies acquired at STEGH are part of the Regional PACS (Archiving System).  Radiologists and other Medical Professionals at STEGH and all centres within the region have access to all imaging studies taken within TVHPP and can compare current studies to priors regardless of acquisition origin.  This avoids duplication of imaging and unnecessary radiation to the patient.  These studies are also part of the SouthWestern Ontario Diagnostic Imaging Repository which contains access to all images acquired in LHINs 1 through 4.
The Diagnostic Imaging Department performed over 48,000 procedures last year.
Services Provided
General Radiography (XRay)
Computed Tomography (CT)
Nuclear Medicine (NM)
Bone Mineral Density (BMD)
Mammography
Ontario Breast Screening Program
Ultrasound
Fluoroscopy/Gastric Barium Studies (SBFT, BE, UGI, etc)
Specialized Procedures (Biopsies, Drainages, etc)
HOU
RS
Hours of Inpatient and Emergency Dept Service
24hours/day, 7 days/week
Hours of Outpatient Service
Monday to Friday 7:30am to 4:30pm
CONTACT
Diagnostic Imaging Bookings:
Phone: 519-631-2030 Ext. 2000, Fax: 519-631-8842
Ontario Breast Screening Program (OBSP) Bookings:
Phone: 519-631-2030 Ext 2517, Fax: 519-631-8842
Manager, Diagnostic Imaging:
Phone: 519-631-2030 Ext. 2002, Fax: 519-631-8842
Ground floor of the hospital on the west wing by Emergency Department.