Diagnostic Imaging
State of the Art Technology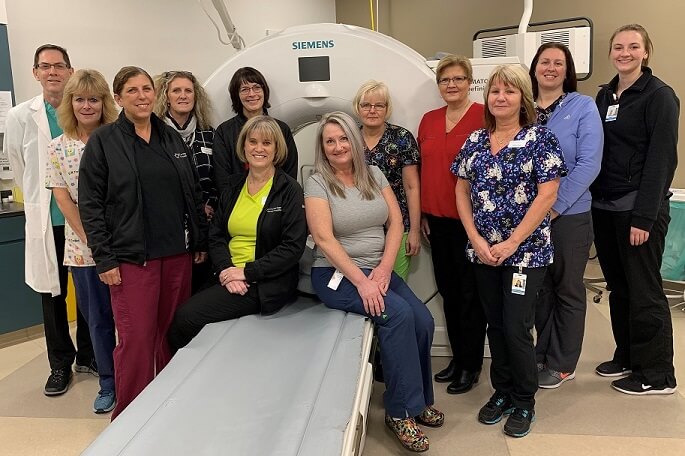 The Diagnostic Imaging Department is accepting eReferrals as part of the Ontario eServices Program. Click here to learn more.
Diagnostic imaging has come a long way from simple X-rays. Today, doctors can diagnose a range of diseases and conditions from cancer and COPD to muscle tears and blockages. In many cases, diagnostic imaging has replaced "exploratory surgery", instead allowing physicians to see inside the body using non-invasive and minimally-invasive methods. Advanced imaging techniques used at St. Thomas Elgin General Hospital (STEGH) include CT, ultrasound, and nuclear medicine.
Your doctor/primary care provider/Emergency Department doctor likely will have explained to you what your test is and what it is looking for. Ask your doctor any questions you may have about the procedure. You can also feel free to ask the DI technologists conducting your test about what is happening.
If you cannot make your appointment for any reason, please contact the Booking Clerk at (519) 631-2030, ext. 2000. 
As part of the Thames Valley Hospital Planning Partnership (TVHPP), all imaging studies acquired at STEGH are part of the Regional PACS (Archiving System).  Radiologists and other Medical Professionals at STEGH and all centres within the region have access to all imaging studies taken within TVHPP and can compare current studies to priors regardless of acquisition origin. This avoids duplication of imaging and unnecessary radiation to the patient.  These studies are also part of the Southwestern Ontario Diagnostic Imaging Repository which contains access to all images acquired in the region.
What to Expect
People who have diagnostic imaging tests ordered by their doctor register at the Diagnostic Imaging Registration Desk. Please arrive 15 minutes before your test unless otherwise advised. Some tests require that you arrive up to one hour before your appointment time. Please bring your health card. STEGH is allowing essential caregivers to accompany patients who require extra assistance. If you need to bring someone with you to assist during your appointment, please discuss this with the clerk when you register.
Each test is different, so we have created brochures that provide information on each type of diagnostic imaging procedure within the department. Please click on one of the links below for more information about your procedure.
Please note that the technologist conducting the test will not be able to give you the results of your test. Only a doctor, primary care provider, or specialist can provide you with that information.
How do you access images from your diagnostic imaging tests?
Effective November 6, 2023, the Diagnostic Imaging department will no longer be able to provide patients with images from their DI tests on USB, CD, or DVD. Patients can register for ConnectMyHealth, a free online tool that provides a single-access channel to view health records from hospitals across the region. Click here for more information about ConnectMyHealth.
The Diagnostic Imaging Team
Diagnostic imaging relies upon high-tech equipment to quickly and accurately image the inside of the human body. It takes skill and training to use this equipment. In some cases, our technologists also examine and interpret the images. These healthcare professionals are a key part of the diagnostic process, helping doctors, primary care providers, and specialists get the images they need to better diagnose and treat their patients.
As a group, healthcare professionals who work within the Diagnostic Imaging Department are known as Medical Radiation Technologists (MRTs).
Radiological Technologists provide diagnostic X-rays and other associated diagnostic imaging procedures. Specialties include general radiography, mammography, angiography, fluoroscopy, and computed tomography (CT scans).
Nuclear Medicine Technologists acquire images that help pinpoint the nature of a disease and how it is affecting the body using radioisotopes that target specific areas in the body to create an image. Nuclear medicine is used to evaluate coronary artery disease, determine the location of tumours, monitor cancer treatment effectiveness, and study how the brain, heart, lungs, kidneys and other organs are functioning.
Diagnostic Medical Sonographer, Ultrasound and Echocardiography: Diagnostic Medical Sonography (Ultrasound Technology) is a rapidly expanding medical technology that uses high-frequency sound waves to generate images of normal anatomy and pathology.  Sonographers are medical professionals who are focused on patient care and perform ultrasound examinations in hospital and clinic settings. They integrate their knowledge of physics and instrumentation, with patient clinical history and sonographic findings to seek out, document, and quantify disease. These findings are reported to a physician and form an integral component in the management of each patient.
Need Help?
The information shared on this page is designed to provide you with all the information you need before coming to STEGH for a diagnostic imaging procedure. However, if you need more information or have questions, ask your doctor/primary care provider, or call the Diagnostic Imaging Department at (519) 631-2030, ext. 2000.
Patient Information
Clinician Consultation/Referral Forms
HOU
RS
Hours of Inpatient and Emergency Dept Service
24hours/day, 7 days/week
Hours of Outpatient Service
Monday to Friday 7:30am to 4:30pm
CONTACT
Diagnostic Imaging: 519-631-2030
General Inquiry, bookings and x-ray: Ext. 2322
Mammography bookings: Ext. 2332
Ontario Breast Screening Program (OBSP) bookings: Ext. 2517
Ultrasound: Ext. 2242
Cardio (ECG/Holter/Stress/Echo): Ext. 2125
Manager, Diagnostic Imaging:
Phone: 519-631-2030 Ext. 2002
Ground floor of the hospital on the west wing by Emergency Department.