Women & Children's: Family Centred Care
Family Unit and Involvement in Decision Making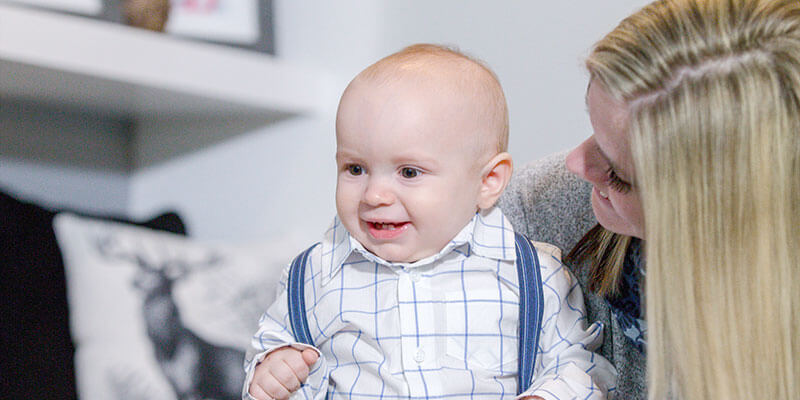 Entrance hours for the hospital are as follows:
South, North and East entrances: 6:00 a.m. to 8:00 p.m., 7 days a week

Emergency Department: Open 24 hours, 7 days a week
About our Unit
The Women and Children's unit provides six maternity inpatient beds, six pediatric inpatient beds and four isolettes in the Neonatal Intensive Care Unit (NICU). There are also six labour/delivery/recovery rooms.
Our care is focused on pre-natal, intrapartum, post-partum, neonatal and pediatric patient care needs. We value family unity and involvement in decision-making as the basis of the philosophy of family-centred care. In addition to inpatient services, Women and Children's functions to provide outpatient support in a number of areas including, non-stress testing, day surgery for pediatrics, pre-admission clinics for obstetrics and pediatrics and outpatient recovery for pediatric diagnostic testing.
The Women and Children's unit encompasses the entire third floor of STEGH. Patients are placed in the most appropriate bed based on diagnostic and age-related criteria – for example, one wing is Post-Partum with an area designated for the NICU, one wing is designated Inpatient Pediatric patients and one is Labour/Delivery/Recovery with six Birthing Rooms.
Our Services:
Birthing Rooms (updated/refreshed in 2022!)
Comfort Measures (whirlpool tub, nitronox, epidurals, birthing ball)
Breastfeeding Support (inpatient and outpatient)
Family Centred Care Philosophy encourages 'rooming in' and family involvement
Neonatal Intensive Care Unit (for premature and sick infants). See SCN Visiting Guidelines here
Partnership with Infant Hearing Screening Program in community
In-hospital visits with Public Health Nurse for additional support
In-person prenatal classes. Click here for more information.
Caregiver Information - Supporting you as you care for your child
It can be scary when your child is sick. You may feel helpless or unsure of what to do. This document outlines common symptoms associated with viral infections, what you can do from home, and when to seek medical help.
HOU
RS
The Women and Children's unit is open 24 hours per day, 7 days per week.
There is always at least one Obstetrician, Pediatrician and Anesthetist On Call 24 hours/day.
CONTACT
Phone: 519-631-2030 Ext. 2196 (Monday – Friday, 7:00 am - 3:00 pm)
Jackie Mitchell, RN, RM, MSc PH
Manager, Women and Children's
Phone: 519-631-2030 Ext. 2841
The 3rd floor of the hospital.