Career Opportunities
Join Our Team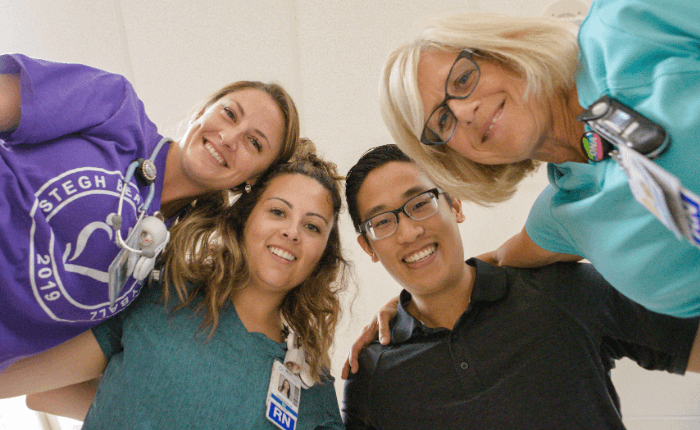 What sets us apart from the rest?
Unparalleled corporate culture - just ask any employee!
Established employee wellness program - supports, resources, on-site counsellor, team activities and challenges, on-unit stretch breaks, meditation, yoga, mindfulness, fitness facility and organized classes.
Open concept, modern Emergency Department. With over 56,000 patient visits annually, STEGH is proud to have among the lowest Emergency wait times in Ontario!
Innovative operating theatres custom-built in 2018 with larger recovery bays and comfortable spaces for patient privacy.
15 in-patient bed Mental Health Unit, complemented by various outpatient programs and services. Visionary design incorporates natural light, outdoor courtyard and walking loop to support healing.
Renowned Patient Partner Program. Patients work collaboratively with health care teams to improve services and care delivery.
Satellite cancer clinic of London Health Sciences Centre offers Chemotherapy to local residents close to home.
Received grant for a Laboratory Renovation Project, to move fully functional diagnostic lab (chemistry, hematology, pathology, transfusion-medicine, point-of-care testing) to new 6,500 square foot space.
Established quality improvement program to regularly highlight continuous improvements initiated and implemented by employees.
Recently expanded and renovated Breast Assessment Program.
Home to one of four District Stroke Centres in the South West region.
Proud partner of the Schulich School of Medicine & Dentistry, Western University.
Why choose St. Thomas Elgin General Hospital?
Competitive salaries with excellent fulltime benefits and HOOPP Pension Plan for every employee.
Individualized orientation for new hires, including "buddied" shifts for additional support.
Flexible scheduling options, including swapping and nonavailability.
Affordable, on-site parking, close to entrances.
In-house Atrium Cafe with daily specials, plenty of eating spaces and outdoor rooftop patio.
Wellness activities, indoor walking track, on-site gym space, exercise classes, outdoor yoga platform, Serenity Space for relaxation and massage therapy chairs.
Employee & Family Assistance Program (Homewood Health).
Staff recognition program, in-house perks, organized events: Annual Beach Volleyball Tournament, Curling Bonspiel.
St. Thomas Elgin General Hospital is committed to a respectful, diverse, accessible and inclusive work environment that inspires respect for individuals and that is free from harassment and discrimination. We encourage and welcome applicants from a broad range of cultural, ethnic, racial and gender identities, as well as people with disabilities to apply. Please contact Human Resources if you require assistance with an accommodation under AODA.