Post Anesthesia Care Unit (PACU)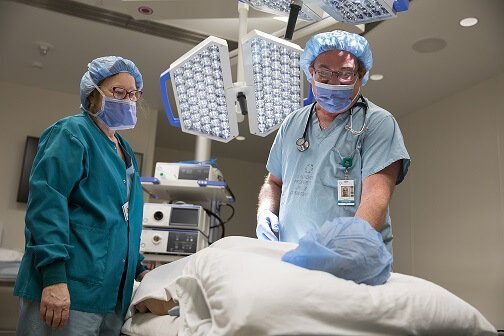 After your procedure or operation, you will be taken to the Post Anesthesia Care Unit (PACU) by the operating room team and your anesthesiologist. If you require more intense observation, you may be taken to the Intensive Care Unit. Admission to the PACU would include patients who had procedures performed under general anesthesia, regional anesthesia and monitored anesthetic care.
The team in the PACU will ensure you are comfortable in terms of pain management and controlling nausea. You will be closely monitored by a nurse who will assess your vital signs:
Temperature
Blood pressure
Heart rate
Respiratory rate
Oxygen levels
Your comfort in terms of pain control is a primary goal in PACU. You will be asked to rate your pain in order to provide the nurse with the necessary information to tend to your needs. The pain scale we commonly use is rated 0 (no pain) to 10 (worst pain imaginable). The nurse will ensure that you are given proper pain medication or are provided with a Patient Control Analgesia Pump (PCA) for your pain control.
The nurse will be monitoring your surgical site, dressings, drains and tubes. The nurse will also monitor your nausea and you will be medicated accordingly.
In cases where ordered by your doctor, you may have specialized monitoring equipment.
You may have an oxygen mask. This will be changed to either oxygen through a tube in your nose, or to room air. In some cases you may require an alternate form of oxygen.
You may need to have the heart monitor on. If so, wires will be connected to the top of  your chest to monitor your heart rate and rhythm.
A probe may be placed in your armpit to monitor your temperature. If your body temperature is low, you will be placed under a warming blanket.
You can expect to be monitored in PACU for one hour or more. When ready, you will be transferred to your room in the hospital or to the Outpatient Surgery Unit where you will be prepared for discharge.
Whenever possible, the surgeon or a member of the team will meet with your family or friends in the waiting room to discuss the outcomes of your surgery as well as any changes to your care after surgery.
Due to the medications you have received, you may not remember being in PACU.
Visitors in PACU
Visitors are NOT allowed in PACU. Parents and/or caregivers of children undergoing surgery will be invited into PACU by the nurse. Under certain circumstances when a patient requires special attention and/or assistance, arrangements may be made for someone to stay with the patient in the PACU. This would include a patient who has a disability or who requires a translator.
During weekday hours, the volunteer in the waiting room will keep families updated on the patient's status.
The phone on the Information Desk can be used to call into the PACU when the volunteer is not available or after hours.
Delays are possible for patient transfers to assigned beds from PACU. This may have an impact on your ability to see your loved ones in a timely manner.