Visiting Guidelines Covid-19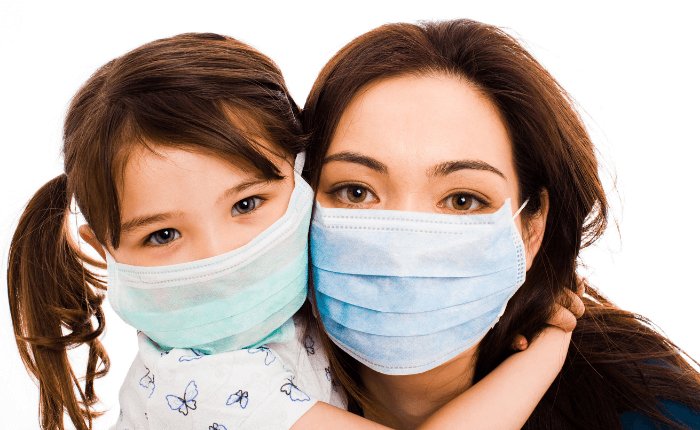 COVID-19 Update for Visitors
Last updated: December 15, 2020
St. Thomas Elgin General Hospital is suspending general visiting effective Tuesday, December 15, 2020 at 12:00 noon. 
The move to the CONTROL level of STEGH's Family Presence Guidelines (see below) is in response to a rapidly increasing number of COVID-19 cases in our community and region, and is a precaution to keep patients, families and our health care teams safe as transmission rates rise and risk a crisis point for hospitals.
What does this mean?
STEGH is allowing limited visitation to essential caregivers only.
Who is considered an Essential Caregiver?
An essential caregiver is an individual whose presence has been deemed necessary for the safety and well-being of a patient and/or a patient who would otherwise be at risk if the essential caregiver were not present (e.g. pediatric patients, patients in labour and delivery, palliative or actively dying patients, patients with cognitive or physical impairment).
Essential caregivers are expected to follow health measures outlined in STEGH's Family Presence Guidelines:
• Scheduled visit
• Pass the screening process
• Wear a hospital-issued mask and additional Personal Protective Equipment (PPE) as indicated by a member of the health care team
• Maintain physical distancing
• Restrict movement throughout the hospital
Stay connected virtually
We recognize the impact of isolation for patients and families during this difficult time and we are doing everything we can to help patients and loved ones stay connected. If you have a family member at STEGH, please consider alternatives to in-person visits. The hospital supports the use of technology to connect with your loved ones through virtual options, like FaceTime, or telephone calls. Please speak to a member of your family member's care team.
Visitors:
We have aligned our visiting practices in accordance with Ontario's COVID-19 Response Framework. STEGH is currently in the red CONTROL phase.
See the chart below for details (click to enlarge).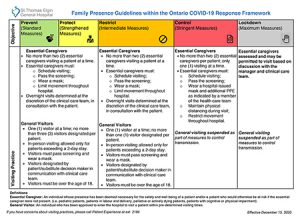 Outpatient Care Areas and Day Surgery: Patients who are physically frail, patients with dementia, patients who are non-verbal or disabled and require a support person are able to have ONE support person accompany them. Please coordinate with the health care team in advance.
Visiting the Emergency Department
Children are allowed one parent or guardian when attending the Emergency Department. Individuals who are physically frail, have dementia, are non-verbal or disabled and require a support person are able to have one support person accompany them.
Active Screening Upon Entry
Access into the hospital is limited to TWO entrances: East and South. Note: Emergency remains open 24/7.
Screeners actively screen all patients, approved visitors, and staff upon entry at all entrances by asking questions about:
Symptoms (fever, cough, difficulty breathing, sore throat, muscle aches, diarrhea, abdominal pain)
Travel history
Contact with a confirmed or probable COVID-19 patient
Contact with person with acute respiratory illness who has travelled in the past 14 days
What if someone fails the screening process?
Patients who fail the screen are provided with a mask and asked to sanitize their hands. The department is contacted for direction before the patient is permitted to enter.
General Visitors who fail the screen are not permitted to enter. (There may be exceptions to this rule for Essential Caregivers.)
Universal Masking is in effect at STEGH.
Click here for an overview of masking guidelines at STEGH.
What type of mask is allowed?
All patients and visitors will be provided with a hospital-approved mask upon entry to the hospital. Outside masks (including cloth masks) are not permitted. If you are wearing a mask from home, you will be provided a paper bag to store your mask until you leave.
When should I wear a mask?
Please leave your mask on the entire time you are inside the hospital. If you need to take it off to eat or drink, or as part of your medical appointment, first wash your hands and then remove your mask carefully, without touching your face (see below).
Is anyone exempt from wearing a mask?
Pediatric patients under the age of four (4) are not required to wear a mask.
People with legitimate medical conditions that prevent them from safely wearing a mask will be exempt (i.e. those with difficulty breathing, extreme anxiety or other related mental health conditions). Patients and visitors who are mask exempt will be provided with a face shield and a sticker indicating that they are "mask exempt".*Visitors who are not mask exempt, but refuse to wear a mask will be denied entry.  
Do inpatients have to wear masks?
Inpatients are not required to wear masks, except:
1) if they have COVID-19 or are suspected of having COVID-19
2) when they leave their room for a test or appointment in another department