Published On: April 8, 2019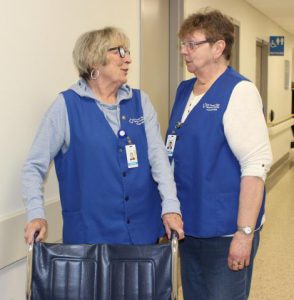 The blue vests that you see roaming the halls of the St. Thomas Elgin General Hospital is a familiar sight to many patients, visitors, and staff. Our volunteers are the unsung heroes of healthcare … their dedication, commitment and compassion for our families, friends and neighbours is evident in their friendly smiles, and their warm and welcoming greetings to everyone who walks through our doors.
Our volunteers are a true asset to our hospital – they provide comfort, companionship, and even a guiding hand to those who are unsure of where they are going. They are instrumental in the care process and provide our colleagues with essential support. The impact is truly invaluable for patient care at STEGH.
In April, we celebrate National Volunteer Week, and take the time to recognize the 150 volunteers who commit more than 30,000 hours of work every year. Our volunteers are a tight knit community who forge lasting friendships with everyone. Their commitment and time is truly inspirational, and we wish to say thank you to our volunteers.
STEGH's volunteer services are committed to the development, implementation and continuation of quality support to assist patients, families and visitors of the hospital.
In addition to volunteering to support clinical services and patients at STEGH, there are opportunities to volunteer with the STEGH Foundation and the Auxiliary. Our ultimate goal is to work together for excellent patient care.
The STEGH Foundation, the fundraising branch of the Hospital, works with many incredible donors and volunteers to support investments in patient care equipment, infrastructure, and nursing education. From our Board of Directors to our events committee, each volunteer believes in the importance of a strong hospital and strong, healthy community, and works together to ensure we meet the care needs of the Hospital through fundraising activities.
The STEGH Auxiliary, whose red vests are a familiar sight in the community. They work to organize BBQs, bake sales, and fashion shows to support patient care at STEGH. Their gift shop – "The Gift Box" – is a fundamental institution at the Hospital that helps raise funds while providing our visitors and patients with the latest fashion and jewelry, household décor, and comfort items. Over the years, these dedicated auxiliary members have committed more than $1,000,000 to patient care at OUR Hospital.
Together, these many dedicated, hard-working individuals make our hospital and our community a better place. All of our volunteers are true healthcare heroes, and we say thank you to all of you.