Published On: October 29, 2019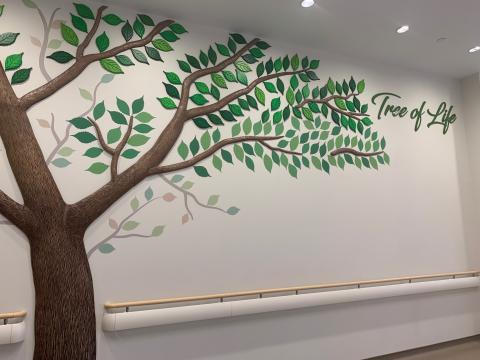 St. Thomas Elgin General Hospital has erected a life-sized Tree of Life to symbolize the strength and vibrancy of life. Each handcrafted leaf on the tree acknowledges an organ and/or tissue donor at STEGH, and reflects on the generosity and hope that organ and tissue donation offers to both families and to recipients.
The Tree takes root with 120 leaves, and will grow as more leaves are added with each donation that takes place. "The Tree of Life is a beautiful way of honouring our patients who have said yes to organ donation," says Dr. Fahad Sheikh, Intensivist and Trillium Gift of Life STEGH Physician Lead. "Our tree is unique in its design; there is not another one like it anywhere. We are very proud that it is now permanently displayed for all to see."
The Hospital has also dedicated the hallway between the Intensive Care Unit (ICU) and Surgical Serivces in honour of patients at the end of life who donate organs and tissue to others. This hallway will now be known as the "Hallway of Heroes", which adequately describes the great sacrifice of their final contribution. Through this acknowledgement, we give thanks. A plaque has been affixed to the wall to honour these heroes who save lives. It symbolizes their journey through this hallway from the ICU to the Surgical Suites.
At an offical Tree Unveiling Ceremony on October 29, 2019, STEGH also received the Provincial Conversation Rate Award (for the second year in a row!) from provincial partner, The Trillium Gift of Life Network. The Award recognizes STEGH for exceeding the target set for organ donations.
Click here to watch the Tree come to life.
Did you know? More than 85 per cent of Ontarians are in favour of organ donation. However, only one in three Ontarians have registered their consent to donate. It only takes two minutes to register… BeADonor.ca