Published On: April 16, 2020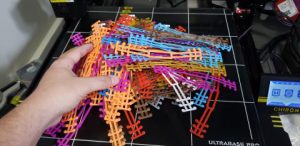 Amidst the uncertainty of the present, there are amazing things happening in St. Thomas. Residents and industry in St. Thomas have been overwhelmingly generous, offering up their expertise, time, technology, and ideas to help relieve the pressures on our local health care system.
In an act of kindness to support local health care workers, St. Thomas resident, Jordon Gingrich is making and donating tiny devices that make surgical masks more comfortable.
These masks are part of the enhanced protective equipment worn by frontline health care providers to protect themselves and their patients from COVID-19. Masks are sometimes worn up to 12 hours, becoming uncomfortable and causing irritation. "I heard about a nurse using a paperclip to make her mask more comfortable," says Jordon. "And another nurse cutting off a piece of her shoelace in the middle of her shift because that was the only thing she had available to her at the time." It was then that Jordon realized he could help.
Using a 3D printer, Jordon developed a template to create extenders, which allow health care workers to relieve some of the pressure the masks can have on their faces. "I saw a wooden hook that had been made as a potential solution, I knew there had to be a better way," says Jordon.
"Who knew something so little could have such a large impact?" says Sherrey Vandermaarel, team lead in the Intensive Care Unit at St. Thomas Elgin General Hospital (STEGH). "Our ears used to get extremely sore from the elastics on the masks. These devices have made such a difference."
Jordon is not accepting money for these devices, it is his way of giving back to his community and the frontline health care heroes. Many of the recipients, as well as friends and family are offering their support in donating materials to keep Jordon going.
In just over one week, Jordon made and distributed over 2,200 devices to local health care workers and hospitals. He plans to continue to produce the devices for as long as he is able.
If you are interested more about how you can support PPE needs in the community, visit sewstrong.ca.