Published On: December 7, 2018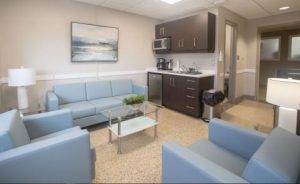 Thanks to the generosity of donors in St. Thomas and Elgin County, the St. Thomas Elgin General Hospital Foundation continues its mission of supporting OUR Hospital. Through a recent investment in OUR Women & Children's Unit, renovation took place to an existing space to create a comfortable and private "Care by Parent" residence, so parents can stay close to their little ones.
STEGH delivers between 650-700 babies every year, and has provided neonatal care since the 1960s. STEGH's Women & Children's Unit provides a regional Maternal Newborn Services to our patients who reside in St. Thomas and Elgin County. The Special Care Nursery provides Level 2 Care/Services to babies born at STEGH, as well as from London Health Sciences Centre.
Most of these babies reach the average 40 weeks of gestation normally required for full growth and development; however, for babies born prematurely, STEGH offers a Special Care Nursery equipped to provide intensive care support for babies 34 weeks and up. These babies require an extended length of stay for medical reasons, and/or to grow and develop until discharged to the care of their parents/guardian.
As part of STEGH's Family Centered Care philosophy, we encourage 'rooming in' and family involvement for all of our patients, especially our littlest ones. In addition to providing this continuum of care, Women & Children's Unit has a newly renovated space – a "Care by Parent" residence which has created a modern and inviting space that supports mothers to participate in the care of their newborn.
"Our feelings of joy, when bringing our baby boy into the world, quickly changed to worry and concern when we learned he had been born with pneumonia. We spent the first two weeks of his life in the hospital. We were offered the Care by Parent residence when he was healthy enough to be with us more permanently. … It was much easier being in a comfortable space with a homey feel. We were so impressed with the Care by Parent space, and feel very blessed to have had the opportunity to use it. It is a wonderful addition to our hospital, and we hope other families benefit from it for years to come. Kudos to the STEGH Foundation for seeing this need in our hospital and making it happen!" explains Brett and Riley Thorner, who share their recent experience with the Care by Parent Residence.
This project was made possible by the generosity of GCW Custom Kitchens & Cabinetry Inc. and Hayhoe Homes. Both companies came together to help support this important project by providing in-kind donations, and funds raised through 2016's "Girls Night Out" with Canadian Olympic Champion Tessa Virtue.
"Supporting the Women and Children's Unit at STEGH is an incredible way to invest in our community and our future generations. Being able to help provide a comfortable space where parents can stay close to their little ones while receiving care is a worthwhile project that has an impact on so many lives," explains Ron DeWeger, President & GM at GCW Custom Kitchens & Cabinetry Inc.
"Being able to work with GCW Custom Kitchens & Cabinetry Inc. and Hayhoe Homes to help support our littlest patients and their parents on their healthcare journey has been so rewarding," explains Paul Jenkins, Executive Director. "Both GCW and Hayhoe Homes are incredibly generous community minded businesses, and helping us to carry out our mission to provide that extra level of care to families through the Care by Parent Residence is very fulfilling."
Our donors have been committed community partners, and this gift will help us equip our Hospital with the right equipment, tools and space they need to support our patients' healthcare.
The St. Thomas Elgin General Hospital Foundation continues to work with our community partners to raise funds for patient care equipment and infrastructure projects from monitors and beds, to equipment for procedures, as well as improvements to the clinical spaces needed to provide care. Supporting OUR Hospital is our top priority, and working with donors and community partners, helps us succeed in carrying out our mission.