Published On: December 21, 2018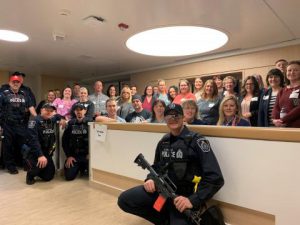 Staff at St. Thomas Elgin General Hospital took part in a training exercise this week to prepare them for a scenario they hope will never occur – gun violence.
Given the recent shootings at hospitals in Ontario, the St. Thomas Police Service and St. Thomas Elgin General Hospital collaborated to enact an active response in a simulated environment.
Over 60 physicians, staff and volunteers took part in the exercise, during which an actor portraying an active assailant stormed a predetermined area of the hospital. In response to the situation, the hospital declared Code Silver, which is designed to alert staff to the existence of a person threatening with a weapon or an armed assailant in the hospital, and to set off planned emergency procedures.
Code Silver is the latest colour code that is part of hospital emergency preparedness. It was introduced by the Ontario Hospital Association in 2016, 25 years after a standardized system of colour codes, including Code Orange for an external disaster and Code Red for a fire, was introduced. Code Silver is, to a certain extent, a sign of the times, with a steady increase in gun violence across the country.
"We are very happy with how the exercise unfolded and how well our staff instinctively responded to the situation," said Kristy Cork, Safety Officer at STEGH. "We learned a lot through this training opportunity, and will be reviewing our internal policies over the coming weeks to determine if changes are necessary."
STEGH would like to thank the St. Thomas Police Service for their leadership and guidance in planning for, and enacting, the training exercise. It was an invaluable experience for staff and volunteers, and the opportunity to partner with and learn from the local Police Service was vital to ensuring hospital staff are prepared for critical incidents in the workplace and actions to take in active shooter situations.