Published On: May 17, 2019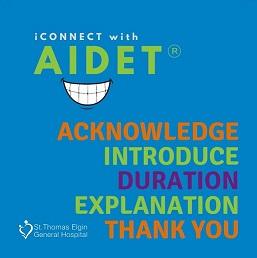 We have introduced a communication framework at St. Thomas Elgin General Hospital (STEGH) to build more connection between staff, patients, and families to ensure an excellent patient experience in every visit.
It's called iConnect with AIDET®, and it is changing the way staff interact with their patients and each other. In fact, hospitals that have implemented AIDET® report increased patient and provider satisfaction, decreased patient anxiety, increased patient compliance, and improved clinical outcomes.
How does it work?
iConnect with AIDET® stands for Acknowledge, Introduce, Duration, Explanation and Thank you. The framework is a simple, consistent way to incorporate fundamental patient communication elements into every patient interaction.
"This is not a new concept at STEGH, but it's an expectation of communication that we are holding staff accountable to," says Karen Riddell, Vice President People and Engagement. "The iConnect with AIDET® framework helps staff to anticipate the needs of patients and their families so that we can meet and exceed the level of care that is expected."
What can patients expect?
iConnect with AIDET® helps staff at STEGH to frame their communication into five simple categories:
A – Acknowledge
Staff will acknowledge the patient and their family. Patients and visitors will be acknowledged in the hallways with a smile or warm greeting.
I – Introduce 
Staff will introduce themselves and share their experience or intention as it relates to the care of the patient.
D – Duration 
Staff will provide an accurate range of time specific to the patient's care trajectory. (I.e. how long until the physician arrives, tests are returned, etc.)
E – Explanation
Staff will explain what the patient can expect in terms of next steps in their care or service.  Staff will ask patients and families to repeat back the information provided to ensure they understand.
T – Thank You
Staff will thank the patient for their cooperation, sharing information, patience, compliance, etc.
Since January of this year, 92 per cent of staff in various disciplines across the organization have been trained in iConnect with AIDET®. In the last quarter, STEGH saw a 32% increase in name recognition based on patient experience survey results. This demonstrates that more staff are sharing their names and building connections with patients and families. Feedback suggests the formal adoption of iConnect with AIDET® has been a success. One patient shared, "I just love STEGH! Before I reached the registration desk in Diagnostic Imaging, seven people smiled at me, said hello, and asked if I needed assistance. It's wonderful to be acknowledged in this way."
Staff have reported positive outcomes related to internal communication as well. iConnect with AIDET has made a priority of more connected introductions and clarity around procedures and expectations.