Published On: April 1, 2019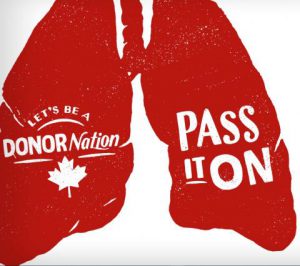 Most of us support improving and saving lives through organ and tissue donation, but only a fraction of us actually take the time to register.
This disparity between good intentions and actions has real-world consequences. While thousands of people have received the gift of life, others have died waiting because there just are not enough organs to meet the demand.
Today, more than 1,500 people in Ontario are on the waitlist for a lifesaving organ transplant, and every three days someone will die without one. Some patients have been on dialysis for years; others are waiting for lungs to breathe on their own again; while others have burns so severe that they require skin grafts.
By registering to become a donor, you can have the power to save or change someone's life. One organ donor can save up to eight lives and enhance as many as 75 more through the gift of tissue.
A beating heart, strong lungs, a healthy liver or functioning kidneys will save the life of someone in the end stages of terminal diseases. Eyes can restore sight; skin can help burn patients; heart valves can help patients with congenital heart disease; and bones, tendons and ligaments can help people walk and run.
"Registering as an organ and tissue donor is one of the most selfless, altruistic decisions anyone can make," says Ronnie Gavsie, president of Trillium Gift of Life Network, the agency responsible for overseeing organ and tissue donation in Ontario. "Based on the support we know exists for donation, we could put an end to preventable deaths on the waitlist if more people registered."
So, what holds people back? Some believe their age or health prevents them from being an organ donor. In actuality, age does not preclude someone from becoming a donor, and each potential donor is assessed at the time of death for medical suitability.
Others may not have registered under the misguided assumptions of religious restrictions, but the fact is, most major religions support organ and tissue donation and may even encourage it, as it can save a life.
Find out more and register at www.beadonor.ca.