COVID-19 Assessment Centre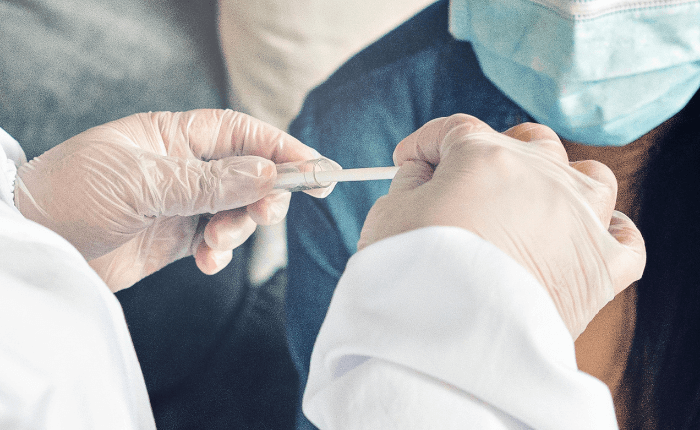 Please note: We do not administer the COVID-19 vaccine at our Assessment Centre. Please contact Southwestern Public Health for more information about the vaccine. 
Testing Guidelines 
Symptomatic testing for high-risk individuals, and individuals who work in high-risk settings.
Individuals with symptoms consistent with COVID-19 are presumed positive and should follow isolation and/or self-monitoring guidelines.
Testing for asymptomatic contacts of cases is generally no longer recommended, except for high-risk contacts/individuals that are part of confirmed or suspected outbreaks in high-risk settings, as recommended by public health.
Positive rapid antigen tests no longer require PCR confirmation.
Based on the latest scientific evidence, individuals with COVID-19 should isolate for five days if they are fully vaccinated or under the age of 12, and if their symptoms are improving for at least 24 hours.
Eligible Groups for PCR Testing
Individuals who meet any of the criteria listed below are eligible for PCR testing:
Aged 18 and older who are immunocompromised
Aged 70 and older
Aged 60 and older with fewer than three COVID-19 vaccine doses
Aged 18 and older with fewer than three vaccines and at least one risk condition such as a chronic medical condition
People who are required to complete PCR testing prior to a surgical procedure (as indicated by Surgical Services)
Symptomatic people who fall into one of the following groups:

Hospitalized patients
Patients in Emergency Departments, at the discretion of the treating clinician
Patient-facing health care workers
Staff, residents, essential care providers, and visitors in hospitals and congregate living settings, including long-term care, retirement homes, First Nation elder care lodges, group homes, shelters, hospices, temporary foreign worker settings, and correctional institutions
Outpatients for whom COVID-19 treatment is being considered
Underhoused or homeless

People who are from First Nation, Inuit, and Métis communities and individuals travelling into these communities for work
Symptomatic elementary and secondary students and education staff who have received a PCR self-collection kit through their school
People on admission/transfer to or from hospital or congregate living setting
High-risk contacts and asymptomatic/symptomatic people in the context of confirmed or suspected outbreaks in high-risk settings, including hospitals, long-term care, retirement homes, other congregate living settings and institutions, and other settings as directed by the local public health unit
Individuals, and one accompanying caregiver, with written prior approval for out-of-country medical services from the General Manager, OHIP
Asymptomatic testing in hospital, long-term care, retirement homes and other congregate living settings and Institutions as per provincial guidance and/or Directives
Clinical Assessments 
As of April 11, 2022, STEGH's COVID-19 Assessment Centre is offering clinical assessments by a physician to assess high-risk patients who may be eligible to receive outpatient anti-viral therapy to treat their COVID-19 infections.
Clinical Assessment Centres can test, assess and provide treatment options for COVID-19. You should visit if you have COVID-19 symptoms and any of the following apply to you:
You are at higher risk of getting seriously ill from COVID-19 and need to get tested and assessed for COVID-19 treatment
You have been directed to visit a COVID-19 Clinical Assessment Centre by your primary care provider
You feel that you cannot safely monitor your COVID-19 symptoms at home and need to be seen by a health care provider
Click here to learn more about antiviral treatment, including what Paxlovid works, who should get treatment, and how to get assessed.
Patients may self-refer or be referred by their primary care provider. Assessments are offered Monday, Tuesday, Thursday and Friday between 9:00 AM and 12:00 PM and can be arranged by calling 519-631-2020 ext. 6210.
*STEGH does not dispense the anti-viral therapy, but will refer eligible patients to a pharmacy to arrange assessment of their home medications and delivery of the medication.
St. Thomas Elgin General Hospital COVID-19 Assessment Centre
*By appointment only.
If you meet the testing eligibility criteria listed above, please contact the COVID-19 Assessment Centre to book an appointment.
Email: assessmentcentre@stegh.on.ca
or/Call 519-631-2030 ext. 6210
Please have the following information ready when you call: Name, Phone Number, Health Card Number, the symptoms you are experiencing, and/or the date of exposure to a positive case. Please advise if you work in health care/long-term care or if you have an upcoming surgery.
Location
St. Thomas Elgin General Hospital
189 Elm Street, St. Thomas
*Entrance to the Assessment Centre is off Hepburn Avenue. Parking is available at no charge and the Centre is fully accessible. You do not have to travel through the hospital to access the Assessment Centre. CLICK HERE to view a map.
Hours of Operation
By appointment only.
Open Monday, Tuesday, Thursday and Friday from 9:00 AM - 4:30 PM
*CLOSED WEDNESDAYS AND WEEKENDS
How do I find out my results?
You can find your COVID-19 test results by visiting this website. You need to have your OHIP number ready to check your results through the website. A health care worker will also contact you directly if your result is positive.
How long does it take to get the results?
Test results can take up to 7 days, but could be available as soon as 48-72 hours.