Behavioural Supports Ontario (BSO)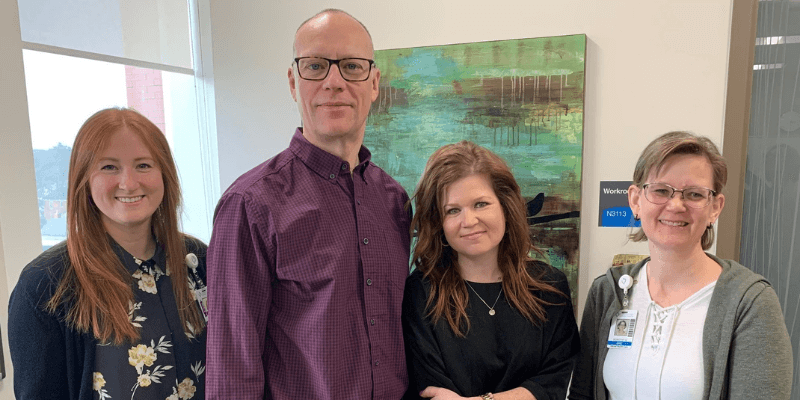 Behavioural Supports Ontario (BSO) exists to enhance services for older people with responsive behaviours linked to cognitive impairments, people at risk of the same, and their caregivers; providing them with the right care, at the right time and in the right place (at home, in long-term care or elsewhere).  The formation of a BSO Response Team at STEGH is part of this initiative to provide evidenced based assessments and collaborative care to this population.
Through development and implementation of new models designed to focus on quality of care and quality of life for this population, a $40 million provincial BSO investment allows local health service providers (HSPs) to hire new staff-nurses, personal support workers and other health care providers across the province. It also provided resources to train them in the specialized skills necessary to provide quality care to these residents/clients.
To date, more than 475 new front-line staff has been hired across the province, over 310 long-term care homes have increased their in-house behavioural supports and an estimated 14,000 new and existing front-line staff have received specialized training in techniques and approaches applicable to behavioural supports.
The BSO in St. Thomas and Elgin County
A year ago, local health care partners from the following sectors- general hospital, community care, community support services, community mental health and addictions, specialized mental health care, community health centres and long-term care formed the Elgin Geriatric Cooperative.  The mandate of this group is to develop innovative, collaborative solutions that lead to more timely access to high quality service and delivers an improved experience.
One such innovation is the development and implementation of BSO Response Teams. Currently, within the eight LTC facilities in Elgin County, "in-house" BSO Response Teams provides evidenced based assessments and collaborative care to residents experiencing cognitive impairment and associated responsive behaviours.
Acting on the recommendations of the Elgin Geriatric Cooperative, St. Thomas Elgin General Hospital is pleased to announce the addition of the BSO Response Team under the management of STEGH's Mental Health Care Program.
In addition to responding to the needs of elderly patients with responsive behaviours in the hospital, the Response Team will provide community support through partnership with CMHA, CCAC, Alzheimer's Society, St. Joseph's Health Care and our LTC facilities.  Following training and orientation, the STEGH BSO Response Team will be operational February 6, 2014.
What is a Responsive Behaviour?
Older people with cognitive impairments due to mental health problems, addictions, dementia, or other neurological conditions can exhibit responsive or challenging behaviours at times. Their behaviour is termed "responsive" because it is often preceded by some form of stimulation (internal or external) that the individual is responding to, sometimes in a negative way. These behaviours, which can include wandering, apathy, agitation, and/or aggression, can occur irrespective of where the person is living: at home, in acute care, or in a long-term care facility, and can impact on both the person with cognitive impairment as well as their caregivers.